Between my son, daughter and I, we have a lot of books; this is just a peek.
He left a collection of DH Lawrence's poems "Birds, Beasts, And Flowers" in my bedroom a couple of days ago.
I like to read poetry at night.
I like to write poetry at night too.
I've read some of his poems before of course, but I don't remember reading his "Figs" poem before. It struck me as very sad. Maybe, it's my age...
This extract particularly captured my imagination; perhaps because I've been
sewing
a lot lately....
"...
When Eve once knew in her mind that she was naked
She quickly sewed fig-leaves, and sewed the same for the
man.
She'd been naked all her days before,
But till then, till that apple of knowledge, she hadn't had the fact on her mind.
She got the fact on her mind, and quickly sewed fig-leaves.
And women have been sewing ever since.
But now they stitch to adorn the bursten fig, not to cover it.
They have their nakedness more than ever on their mind,
And they won't let us forget it.
Now, the secret
Becomes an affirmation through moist, scarlet lips
That laugh at the Lord's indignation.
What then, good Lord!

cry the women.
We have kept our secret long enough.
Let us burst into affirmation.
They forget, ripe figs won't keep.
Ripe figs won't keep...."
From "Birds, Beasts, And Flowers: Poems By D. H. Lawrence."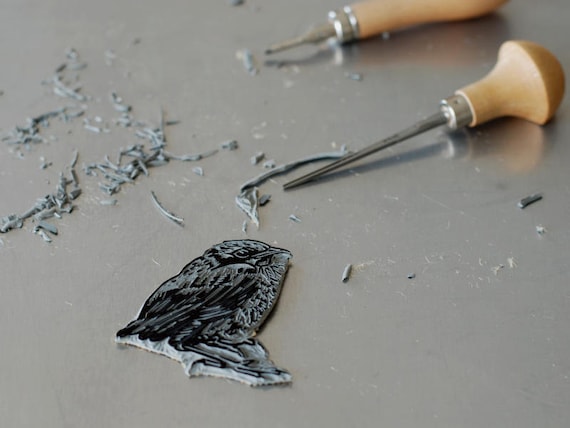 Photograph with permission from Patrice A Arts
I've also been so happy to find my friend has opened her own ETSY shop!
Hurray!
I've been waiting for this to happen for ages.
Her work is amazing.
And her printing press is a beauty!
Please take a look, if you haven't already.
(I bet you have!)
Patrice A's website
Patrice A's Etsy Shop!!!
Congratulations my friend
xx